Tianshui City Third People's Hospital emergency care skills competition.
Garden-style hospital corner.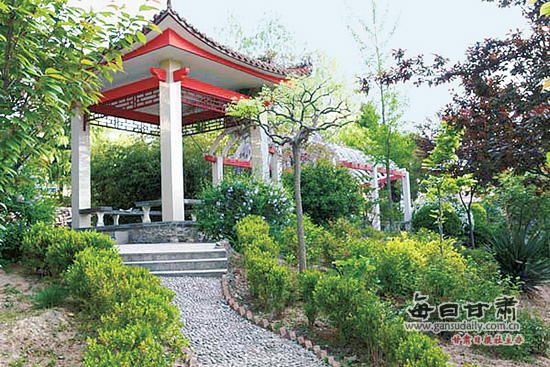 Long Run
American mathematician John Nash, was only 30 years old suffering from paranoid schizophrenia. In the active treatment and social, family help, Nash finally returned to normal, and won the Nobel Prize in Economics in 1994. He said the award in appreciation speech: "Only in the mystery of 'love equation', the logic and reason of living life to find."
Nash's story was later adapted into the movie "A Beautiful Mind", deeply touched the hearts of audiences around the world. And in Tianshui City, Gansu Province Third People's Hospital (Tianshui City psychiatric hospital), the same group of angels, they use "love equation," trying to unlock the handling mental patients "spiritual curse", so that more mental diseases patients find his beautiful mind. They Big Medicine sincere, Zhiyuzhishan story spread between Long Mountain Long Water ……
Longyuan mental health leader
Tianshui, the state historical and cultural city, because of the "Milky water" and the name, known as Xi Huang hometown, Long on the Jiangnan reputation. In this beautiful and magical ancient city, Gansu Province stands an establishment of the hospital's oldest and largest, world-famous northwest of mental health facilities – Tianshui City Third People's Hospital (Tianshui City psychiatric hospital).
Into Qinzhou District of Tianshui City, fine table Road 17, Tianshui City Third People's Hospital in sight. But see her hillside, mountain water, beautiful scenery, elegant environment, is indeed an ideal place for rehabilitation treatment for patients with mental illness.
Tianshui City Third People's Hospital, the war was born, and was founded in 1953. Its predecessor, the medical institution dedicated to serving the Korean War volunteers, Gansu Province is also the first to carry out psychiatric medical institutions. Since that date, the hospital ups and downs, gone through 64 years of extraordinary course, wrote Xuanhujishi, saving lives, Healing Hands exciting chapter.
60 years of trials and hardships, the condensation of several generations of medical workers wisdom and diligence, perseverance and the pursuit of glory and dream. Especially since the reform and opening up, the hospital hold high the banner of reform and development, adhering to the "Big Medicine sincere, striving for perfection," the spirit of a career in medicine, heritage "love, devotion, and beyond, first to" the purpose of running the hospitals, improving medical disciplines construction, professional team of construction, infrastructure construction and spiritual civilization, has developed into a multi-disciplinary both psychiatry, psychology, neurology disease department, forensic, drug rehabilitation, acupuncture and other medical treatment, prevention, rehabilitation, teaching, scientific research in one of modern mental health facilities.
History clearly records the amazing achievements hospital. Hospital at the beginning of the establishment of the hospital, only a few dozen beds, a dozen health care workers. But over the past 60 years, the development of the hospital's very proud. Now, Tianshui City Third People's Hospital covers an area of ​​46,000 square meters, the business fraternity Building, severe mental illness hospitalization House, a modernized building where they stand, medical equipment Habitat advanced level in the psychiatric hospital in the northwest, with 700 beds, more than 600 employees, more than 140,000 outpatient visits, patients admitted to hospital more than 7000 cases, services throughout the Northwest.
History clearly records the hospital unique quality of care. Launch services from the public commitment to the community, the implementation of "patient choice of doctors' reform, the implementation of human services, family-style care featuring" Star of care "model building" quality care demonstration project ", to carry out the" good service, good quality, good ethics, people are satisfied "as the content of the" Miyoshi a satisfaction "activities …… under the" patient-centered "concept of appeal, the quality of care third people's hospital of Tianshui City, the continuous improvement of known reputation significantly. Today, the hospital has become the first choice for patients in hospital five provinces in northwest mental diseases for medical treatment, more than 40% of outpatients diagnosed rate amongst the best hospitals in the country. Hospital treatment of the disease of depression, neurosis, epilepsy, sleep disorders, psychological disorders other aspects of experienced, high efficacy, in terms of Chinese medicine treatment of chronic drug and medical practices unique and effective. Treatment of mental illness in addition to traditional medical treatment, but also the use of modified electroconvulsive shock therapy, biofeedback therapy, psychological therapy, Chinese therapy, art therapy and other behavioral integrated treatment and rehabilitation measures, the total effective rate of 95%.
History clearly records the rapid development of disciplines hospital. Discipline construction is the eternal theme of the development of the hospital. Over the years, Tianshui City Third People's Hospital cultivate a batch after batch mental health professionals, famous men. The hospital to "go out" and "Please come" approach combining encourage and selecting talented people out advanced studies and academic leaders, to learn the advanced management concepts and cutting-edge medical technology; at the same time actively invite domestic well-known experts to psychiatric hospital lecture exchange, has hosted the five northwestern provinces of mental illness academic exchanges, China Association for mental health mental health Branch of disabled persons with mental disabilities psychological rehabilitation professional committee 2015 annual Conference and other large academic conferences, to keep abreast of new developments in clinical disciplines of development, and constantly reinforce talent base. The hospital has and Lanzhou University, School of Medicine, Tianshui Normal University signed a cooperation agreement, mutual instruction, teaching hospitals improve the level of scientific research; standardized training of resident physicians signed a cooperation project with the First Affiliated Hospital of Lanzhou University, vigorously carry out physicians standardized training; and West China hospital of Sichuan University to build a network of psychiatric remote video consultation system, creating a mental health institutions in Gansu Province remote network video consultation precedent. Currently, the hospital has formed a complete system of treatment and rehabilitation of mental illness, the center of science, psychosomatic illness Branch is "municipal key medical specialties," psychiatry is the field of mental health in Gansu Province only "provincial key medical specialties," forensic psychiatry ranking the province's leading reputation in the Northwest Territories. Hospital completed nearly 400 research projects, of which seven provincial-level scientific and technological progress, third place, a paper published in the internationally renowned medical journal "The Lancet" (TheLancet).
After 60 years of unremitting efforts, the Third People's Hospital of Tianshui City, with its strong technical force, comprehensive treatment, personalized service concept, extensive rehabilitation facilities, open management style, a unique hospital culture, beautiful environment for medical treatment won the high degree of social recognition, the higher authorities and the families of patients, have access to mental health prevention and treatment of Gansu province advanced units, mental health training base in Gansu province, the provincial civilized units, the most attractive hospital, hospitals and many other honors the most credible title.
Monument silent, speak louder than words. Today's Tianshui City Third People's Hospital, mental health has become a leader in Gansu Province, northwest of the mental health industry gold standard, but also in patients with mental diseases longing for medical rehabilitation resort.
The spiritual home of the faithful guardian
Mental health is the highest level of hygiene. Under the same blue sky, there are some patients with mental illness living in a "different world". They suffered mental torture itself, but also brought endless suffering to his family. That in healthy people, there are many people deeply emotional distress anxiety, depression, and often issue "I was not depressed the" questions.
In recent years, investment in the construction of mental health service system has significantly increased, developed rapidly, but psychological problems with social security and stability, and public feelings of happiness and other issues are intertwined superposition characteristics become increasingly prominent, mental health is still facing serious challenges . In this regard, Tianshui City Third People's Hospital loyalty of mental health services, with a strong sense of responsibility but myself, hold the patient's mental illness party blue sky, the patient returned to a warm, sunny world.
my country is known as the traditional "heart disease need medicine for the heart" of. As the consensus of the world medical community, mental illness is not incurable, in addition to drugs, patients are more in need of psychological and social aspects of help. In this regard, Tianshui City Third People's Hospital has made its own contribution. They not only fully cure the disease itself, it has even turned to rebuilding the social function of patients with mental illness, recovery and help build a positive attitude towards life of patients, improve social adaptability patient, the patient ready for return to society. They "love equation," with love, patience and care, and strive for patients with mental diseases "logic and reason to live life to find."
We work together to capture a few Third People's Hospital of Tianshui the treatment of small silhouettes:
– performance art into the treatment center, patients or focus on chess, calligraphy or painting, is a leisurely look. Hand room, a group of male patients, are sitting together, close to the "Eight Horses" with five corners diamond diamonds embroidered colorful. Patients Zhang said: "Diamond embroidered two meters long, has been completed by a third, and so I recovered very rewarding to go home, I want to open a diamond embroidery jewelry shop at home.." To medical staff briefing, female patients like cross-stitch project before more involved. After much debate and testing, the hospital introduced a relatively simple, practical, beautiful diamond embroidery, a lot of restless temperament male patients are willing to join them, which not only enhances concentration of patients, but also improve patient rehabilitation faith is an effective adjunctive therapy.
– For patients recovering from mental illness, can regulate mood music, strive to purify the mind. To this end, performance art treatment center conducted performances of chamber music, playability, and a series of music listening experience. Music room to teach the patient to sing some positive, popular, easy to learn, familiar modern pop songs and folk songs short, patients with the most popular karaoke OK performances. Music room also choose some soothing music and pure folk music, listening to the patient in the course of the effective vent negative emotions, achieve inner peace. Health care workers said that after a lot of musical experience, can give psychological comfort to the patient, to help patient confidence, strong will, inspire courage to overcome difficulties.
– has been carefully prepared to "love each other's family" as the theme of the doctor-patient party held as scheduled. In the cheerful sound of music, along with the patient and medical staff jointly opening dance performance "Little Apple", party kicked off. Program forms, rich in content, positive, both on stage and interact with the truth, the doctor-patient interactive games friendly and peaceful. When the party drew to a close, all health care workers and patients together singing "love each other's family," show sincerity and warmth. By full of warmth and positive energy of the party, between doctors and patients, between patients with and exchanged blessings. Patients who believe: there you have me, is the "love each other's family."
– Hospital patients to demonstrate the fine arts, calligraphy, paper-cut and hand-made artistic skills, organized a "can do" column. A handling this column out, we will have the enthusiastic support of the patient. Many patients by participating in a "can do" column activities, and actively show their talent and find a long-lost self-confidence, but also injected new life of hope. There are also many patients through this event, fine arts, calligraphy and other artistic skills showed a keen interest and an open mind to learn from patients, resulting in an optimistic and positive emotional life.
– This is a "draw leaves" activities, health care has always been made to change the way the leaves, with patients who walk into nature to experience the atmosphere of early winter, to find their favorite leaves. After returning room, we draw great interest around the table to observe the terms of sight, smell, touch, etc. carefully, speak about their memories. Then various leaves upset together, so that patients have to find that one of their own, and felt himself drawn leaves. Medical staff, this event does not necessarily want everyone to have the ability to draw works, more is to let them experience the process from then to dare to try to enjoy art through the creation, appreciation, sharing obtain joy and satisfaction, let each patient relax, improve cognitive function, social function and improve quality of life.
– "Chen, how do you then crouched in the corner of the elevator ah?" Chen always a lonely person hiding in the corner, head down, do not know what to think. In this regard, the staff repeated attempts to communicate with Chen, cheerful and lively and patient with him to participate in occupational and recreational therapy activities. Gradually, Chen has changed, also took the initiative to start a manual. He wove into a colorful flower pots, he said:. "I live on and before this as flower pots, especially monotonous, but now, my world I want to have the same color as my hand woven pots, live there is color. "
– spring on the occasion, Third People's Hospital of Tianshui City Farmers treatment base a life. Nurses and patients were seriously busy, seed capsules are planted by the hand of the patient into the earth, but also planted the seeds of infinite hope. According to hospital nurses introduced, sharing the fruits of labor to arouse the desire for a better life of the patient, the treatment of this new agricultural rehabilitation therapy, rehabilitation is introduced into the patient's mental illness, the patient can recover confidence in agricultural labor, access to mental rehabilitation on.
– Qinzhou District of Tianshui City Youth Road is a "maxed out" circle of friends "Ginkgo Avenue." Early winter, here yellow leaves filled the air, everywhere golden, just like a stream corridor gold golden Yi Cai, full of poetic fairy-tale. This time of year, Third People's Hospital of Tianshui City staff must take the patient to come to appreciate the endless beauty, close to nature, physical and mental pleasure, promote recovery. In normal times, as the seasons change, the hospital every week to arrange a time to lead the rehabilitation of patients outings. One patient said with deep feeling: "the beauty of nature is a good medicine, can drive away the haze of our hearts."
This warm and cozy scenes scenes, Tianshui City Third People's Hospital humane, family-oriented therapy touching moments. In recent years, with the change of medical model, psychiatric hospital management from the traditional closed-end, the regulatory formula forward to voluntary patients, diversified, open-end management changes, open management and close management compared to more humane, family-oriented. Correspondingly, Tianshui City Third People's Hospital start "quality care demonstration project" to create activities, a combination of different cases for different treatment, medicine recipe seek continuous improvement and screening. Each ward as an opportunity to excellence, constantly updated service concept, enrich and expand the scope of care, carried out humane, family services has a special feature, gradually worked out a set of unique care model, forms the front "hospital prevention, treatment in hospital, discharge guidance "of mental illness throughout the nursing service model, to become the trust of patients and outside of treatment and rehabilitation of mental diseases base, the patient's family affectionately called" patient's home. "
The Third People's Hospital of Tianshui City has a notice bar. The thank-you letter that the patient's family writes to the hospital has not fully fade, and the new thank you letter has been covered. A patient's family said: "After the child is discharged, the past has been stagnant, and there is a lot of aura, my baby 'regeneration' is …"
"The patient came to the hospital. It is necessary to go home. Every medical staff should treat patients like family, and give warm like family." Ding Zhijie, Dean of the Third People's Hospital of Tianshui City.
Yes, the road of rehabilitation of mental illness is everywhere, and difficult is difficult. But as long as you adhere to science, you can use your heart to patient, you can use love, use technology to lay a hopeful path to patients.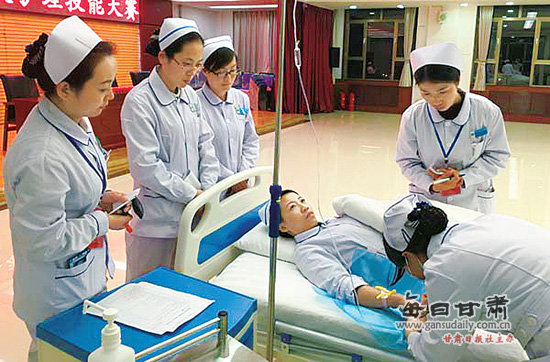 Daffodous medical practice
After graduating from the medical school, it will hold a medical citizen's oath ceremony under the leadership of the tutor, and will recite a vow. During this paragraph comes from the mouth of Hippocra, he is called "the father of medicine" by the future.
The content of this paragraph is: "On the occasion of the doctor's occupation, I solemnly swear to serve the people … I must keep the dignity and conscience in practice. I must put the patient's health and life in everything. The first … For people's lives, they have maintained the highest respect. Even under threats, I will never need my knowledge to do anything against humanity regulations … "
In the eyes of the doctor, Hippocracel vows is a sacred oath. For this vow, the medical staff of the Third People's Hospital of Tianshui City is always practicing, internalization, and externalization.
Wang Ziping, the Ordinary Male Nurse of the Third People's Hospital of Tianshui City. This year is the 37th year of his work.
"Relaigh, don't you want to play with these uncle?" When I checked the room in the morning, Wang Ziping came to come, and I asked with a smile.
In the corner of the room, a 167-year-old boy sat there was no expression. The nurse's question and everything on the side, it seems to have nothing to do with him. This is a teenager who is hospitalized for a long time. Wang Ziping will make such a gentle question with him every day.
"I didn't play today, I didn't play, I first took the medicine first, let them envy, ok?" Wang Ziping is like a father, and Wang Zhiping is like a father.
"After so many years, the patients I have taken have changed again. They didn't think so terrible." Wang Zhiping said in the heart. He believes that mentally sickness is not only taking medicine, treating, they are more eager to get people's inclusive and respect, I hope someone will listen to their inner world. Their family also needs society to accept them.
"Don't be benevolent, if there is no sense of compassion on the patient, it is difficult to become a good doctor." Wang Gangping, the chief physician of the Third People's Hospital of Tianshui City, also hit the patients with mental illness. 18 years of hand.
Just started to contact these patients, Wang Gangping felt really worried, but with the deep understanding of the patient, he gradually fell in love with this work. In his opinion, mental illness is the same as we are, just now, they need to care and love. Treating mental illness, emotional communication is much smaller than drug pipe, even if it is just a simple movement of the pat, it will also close the distance of the patient's emotion.
Only love is the best antidote. Not only Wang Zhiping, Wang Gangping, every medical staff of the Third People's Hospital of Tianshui City is doing this.
In daily care work, in order to protect patient safety, medical staff need to pay attention to the number of patients anytime, anywhere. In the past, the medical personnel were generally used to the patient in the name of the patient. This usual action was noticed after the leadership of the hospital, considering that some patients will generate "discrimination", hospital is equipped Portable counter.
"This counter is hand-held, the count is accurate, and the most important thing is fundamentally solving the discomfort caused by the nursing staff to give patients." Wang Ziping believes that this respect is required in the depths of patients. I can feel the joy of them being respectful.
Everything for patients, for patients everything. In the process of pursuing the vows of Hiboda, Tianshui City Third People's Hospital has also achieved great development.
On April 6, 2016, for the Third People's Hospital of Tianshui City, it is a day of ever-contained history. On this day, the hospital held a three-level psychiatric hospital and created a national civilized unit launching meeting. This marks that this brilliant history has blown up the horn toward higher goals, and raises the winds and sails of the new round of hospitals.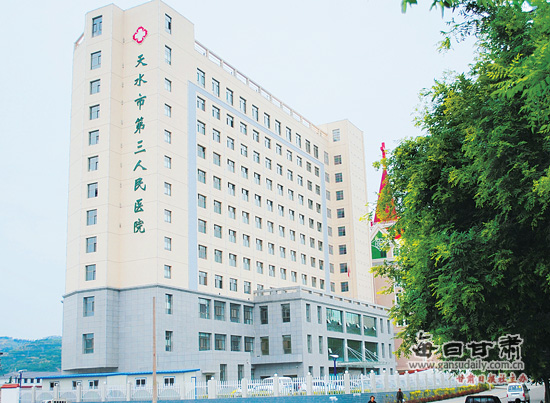 "Trica" ​​hospital is the highest level of our hospital, and the national civilized unit is the highest standard of inspection of a unit civilization. Establish this goal, both of the glory, and the creation of inheritance. Ding Zhijie, Dean, said, a modern hospital with exquisite technical level, beautiful medical environment, a first-class management service, escorting the health of the masses, is both the sincere expectations of major patients and their families, and constantly improving the integrated power. Yang Guohong, secretary of the party committee secretary, said to promote the creation of national civilized units, further improve the social influence of hospitals, establish a good social image of hospitals, and expand the development space of hospitals, and better develop services for mental health.
In order to pursue this goal, the Third People's Hospital of Tianshui City rigped up and down. Since the mobilization meeting, all employees of the hospital have actively set off a creative boom in the enthusiasm of the owner's attitude and full work. When the calendar in 2016 turned over, the fruit is full and hung.
In 2016, Tianshui City Third People's Hospital is based on the "three" hospitals and national civilized units, to implement the "Pi" activity as a carrier, further deepen hospital reform, strict quality management, strengthen connotation construction, hospital service scope and The service features are further widened, the medical security capacity and service quality continue to improve. All-year outpatient diagnosis, hospitalizations increased by 20.5%, 34.15%, respectively.
It is worth mentioning that "Power Supply Circle" activities. The "Power Top", the quality management circle, mainly for the problem of large and small in medical services, and the combing from beginning to end, thereby reaching the purpose of improving medical quality and improving medical services. This is a management method that encompasses the continuous improvement of quality, and gradually applied in medical institutions in recent years. Since the Third People's Hospital of Tianshui City, since the "Self-bottomed, upper and lower, self-conscious" activities have applied comprehensive quality management ideas and methods, and encourage employees of the whole hospital to participate in the "Power Supply Circle" event. Make the hospital significantly improved the hospital in management, technology, humanities.
In the face of such results, Ding Zhijie emphasizes the "three" hospitals and national civilized units, not to cope with a shortest check, not to take a brand, fight for a honor, but to create activities, continuous improvement of medical technology Level and service quality, create a good atmosphere of hospital and fast development, providing the people with safer, convenient, efficient, low price, high-quality medical services, and make new and greater contributions to the health of the people.
The road is like iron, and now step by step. When the bell in the new era, when the New Year's dawn is coming, the Third People's Hospital of Tianshui City will also take a solid pace in the new journey to create a better future.