Hi I am Babei, here is a lesson every day; Haier inverter air conditioning repair explanation and analysis case, air conditioning is not refined, the internal and external machine does not work, we can initiate the code according to the code appeared in the inner machine display board, if the display board is not faulty The code, press the hand and press the emergency switch, after seven seconds, the inner buzzer will make a drop, remember not to let go, I will leave a drop (three) to let go, at this time, the fault code It will be displayed.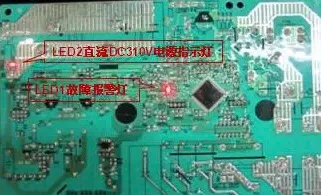 It is also possible to break the fault through the fault alarm light of the outdoor unit.
According to the number of fault alarm lights, it is judged that today is the outdoor machine flashing (F12 in indoor unit) fault explanation and analysis, fault; outdoor machine motherboard EEPROM failure
First, solution
1 The power supply is abnormal and the voltage is too high. Excessive, voltage unstable, causing the E-party data error. After 5 minutes of power failure, the power-up program is reset to normal.
2e-read data reads failed, re-burn data or worse outdoor machine board. Second, the maintenance item: ■ Indoor display alarm F12 fault, outdoor computer board LED1 indicator flashes, outdoor computer board EEPROM circuit failure 1 When the F12 fault is maintained, the user's supply voltage should be detected in the normal range. The single-phase AC power supply voltage is 220Vac ± 10% 2 specific maintenance method: After disconnecting the air conditioner power switch or power plug 5 minutes, whether the power-on test machine is operating normally, if the air conditioner is functioning properly, then the user's supply voltage will be described. Or poor power supply line (power supply voltage fluctuations), resulting in an EEPROM circuit protection of the outdoor computer board to explain the user. Otherwise, when the air conditioner is powered off, it is still not normal, the fault is still alarm F1 or the outdoor computer board LED1 fault light flashing 1, indicating that the air-conditioning outdoor computer board EEPOM circuit is damaged, and the outdoor computer board should be replaced. 70 and 70-1