Product: Instax SQ10 Fuji Polaroid
1 Fuji SP-3 printer next week
Recently, Japan Nokishita website brought us the intelligence on the appearance of a new portable photo printer Fuji Instax Share SP-3, you can see this new printer is equipped with Fuji's small and angular appearance, according to Fuji Rumors website said that the new that is, to come out in next Wednesday October 25, while Fujitsu will launch a white version of SQ10 Polaroid.
Fuji Instax Share SP-3 spy appearance portable photo printer (image from Nokishita)
Fuji Polaroid white version of SQ10 spy (images from Nokishita)
Editor Commentary:
It seems next Wednesday will be very busy, Sony, Fujitsu will release new products. But compared to Sony will update the body, lens view, this wave of new Fuji is very down to earth, are the new photo printer Polaroid and white version of SQ10. I personally think SQ10 is very interesting, can store digital photos, but also supports shoot that print, easy to play a lot stronger than traditional Polaroid.
Recent hot news:
"
October 25 has become increasingly Sony will release new products next Wednesday
"
SLR Canon also announced full-screen body design patent
The new model is G9? Matsushita November new intelligence update
There must be updated Image Stabilizer Canon 24-70mm F2.8
2 Fuji Instax SQ10 detailed parameters
Fuji Instax SQ10
The main parameters
Camera type film cameras, instant cameras
Operation fully automatic
Effective Pixels 3.6 million
Photo size 62 × 62mm
Lens parameters
Lens Description equivalent 28.5mm
Zoom Factor The digital zoom: 2.4 times the maximum magnification Print
100mm- infinity Focus Range
Aperture range of f / 2.4
Screen parameter
Type TFT color LCD screen
Screen Size 3 inches
Screen pixel 460,000
Exposure Control
Exposure automatic exposure mode program AE
Metering TTL256 area metering, multi-metering
ISO sensitivity ISO 100-1600 (Auto)
White Balance Auto
Function parameter
Description shutter Shutter speed: 1 / 29500-1 / 2 seconds (automatic), B gate mode: up to 10 seconds
Selfie function about 10 seconds, about 2 seconds
Properties are independent of six operation buttons
With face recognition ability
New Square Paper
Other performance 1/4 inch CMOS with primary color filter
AF system: TTL contrast detection AF, AF-assist illuminator configuration
Shooting modes: standard, double exposure, B door mode
Image Effect: 10 kinds of filters, brightness adjustment, toy camera
Playback function: trim, multi-image playback
Paper Number: 10 / cartridge
Paper Size: 86 × 72mm
Flash parameters
Flash range of about 50cm-8m
Flash modes Auto, Forced Flash, Suppressed Flash, Slow Synchro, Red-eye reduction
Storage Link
A storage medium built-in memory, microSD / microSDHC card
Recording Format Camera File System (DCF) design rules, EXIF ​​2.3 version of JPEG, PIM
Memory capacity built-in memory: about 50 files
microSD / microSDHC memory card: about 1000 per gigabyte file
Micro USB data interface
Power Performance
Battery Type NP-50
Battery life of about 160 (the case where the battery is fully charged)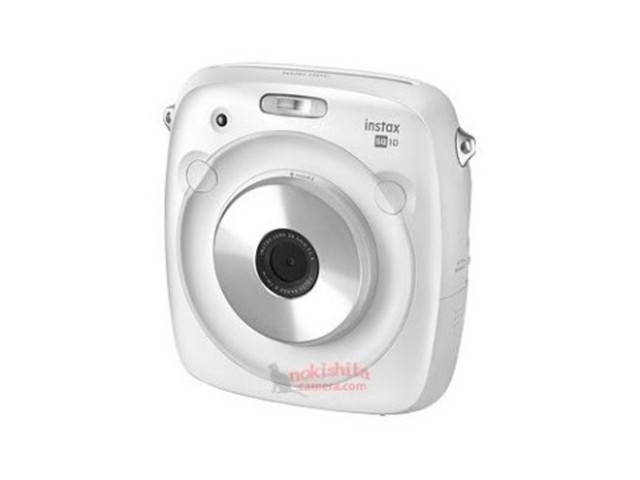 About 3-4 hours (using a 0.5A USB Interface)
Appearance properties
Size 119 × 47 × 127mm
450 g of weight (relative to the tray and including a battery)
* This information comes from ZOL Product Library
Fuji Polaroid white version of SQ10 spy (images from Nokishita)
"
"
"
"
"
"