N Evening News reporter Chen Qiang
Tongxin Hai Wei
Many people are unfamiliar with the brand of "big mouth monkeys". This cute monkey not only got a variety of clothing, but also put some bedding. In Haining, there are two small supermarkets in the sale of sheets with "big mouth" icon, but they are complained in the "big mouth monkey" in Hong Kong.
Network map of graphic
Yesterday morning, the reporter learned from the Haining Municipal People's Court that Haining Court believes that the behavior of these two small supermarkets has constituted the infringement of copyright.
The plaintiff allegations, the two supermarkets sold the sheets with "big mouth" patterns in the store, which constitutes the infringement of artwork, requiring two defendants to stop infringement and compensate corresponding losses.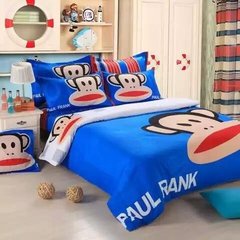 Haining two defendants, it is proposed after the court, and the supermarket is more daily, and the sheets of this pattern cannot be identified are infringement products, and the product has a unified purchase channel. It should be taken by the wholesaler. As a seller should not bear Compensation responsibility.
The undertaking judge pointed out that although the supermarket as a seller, it may not be able to check the sales of goods, but at least the basic information of the goods should be reviewed, and the two products involved in the case, the manufacturer cannot be displayed, and there is no obvious The trademark identification, and the "big mouth monkey" image pattern market recognition is high, as the sales owner should have higher attention obligations, without selling goods related to the pattern, the goods related to the case It is faulty, so it constitutes an infringement of copyright.
After listening to the law, the two defendants expressed their willingness to accept negotiation. In the end, the court coordinated, original, the defendant reached a reconciliation, and the two defendants agreed to stop selling the infringement product and compensated reasonably.
"Many well-known pattern images, animation images, trademark patterns, etc. can constitute works in the sense of copyright law, the use of works is to obtain licenses or authorizations from the right holders." The undertaking judge said that it was not permitted. Producing products with right to print the right places may constitute copyright infringement.