Actually warm underwear
It's wrong since the name
Intersection Warm -keeping underwear is a
Pseudo -concept
Intersection because
Its main function is not to keep warm, but to absorb dampness and sweat.
Speaking of warmth, let's first understand the principle of warmth.
Our body itself is a heating body, and it will always exchange heat with the environment.
Keeping warm is actually to prevent the loss of body heat
Intersection The environmental temperature in winter is low, so it is necessary to keep the heat from the loss of heat. This is the principle,
It is not based on the so -called "spontaneous heat" of warm underwear to keep warm
Essence
Speaking of spontaneous heating, in fact, this concept
Easy to be misled
Essence Self -fever does not mean that heating underwear itself will really heat up, but a kind of
Hygroscopic and heat -absorbing
Principle.
The hydrophilic genes in the fiber will absorb the water vapor of the skin surface or in the air, and the kinetic energy of the water molecules of free movement will be releasing it. It sounds a bit powerful, but in fact, this phenomenon is very common. Most of the common textile fibers have the performance of hygroscopic and heat, which is not unique to keeping warm underwear. Merchants are just amplifying this as a propaganda gimmick.
And this kind of calories are not much, and warmth is average. You don't need to pay special attention to this. There is also a very hot virtue, so there is no need to tangled.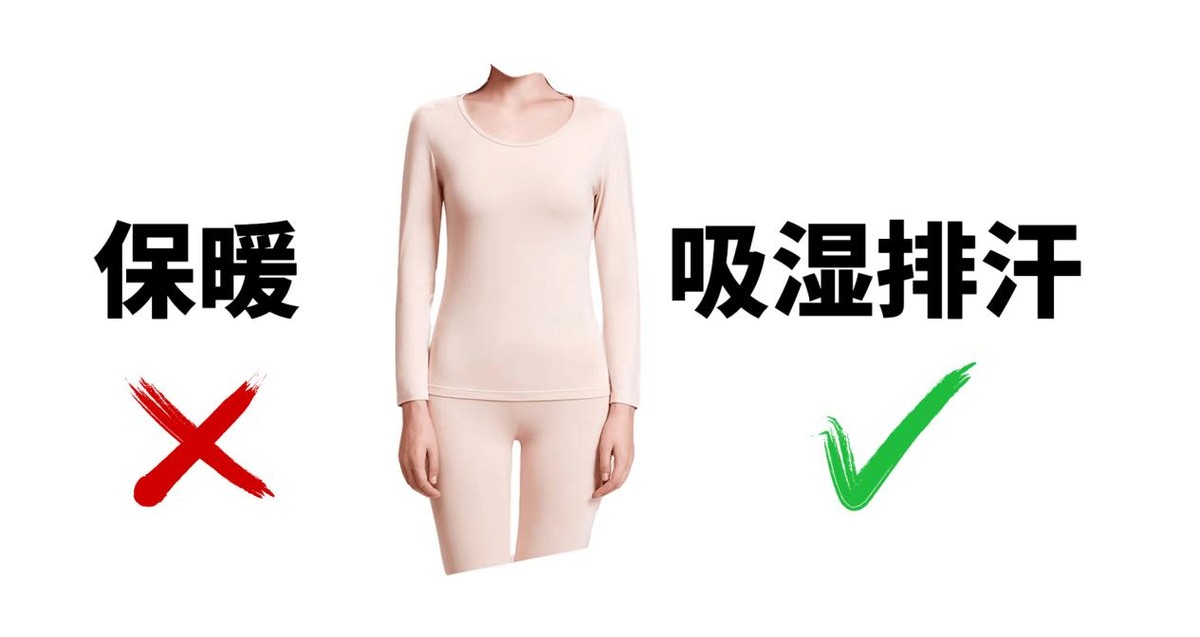 What do we have to pay attention to? It is the beginning of hygroscopic sweating at the beginning.
You should have experienced it, right? Although winter is cold, it will sweat a little bit. If the innermost heating underwear does not sweat, it will be wet and uncomfortable, and it is easy to catch a cold.
The typical is cotton fabric
Many people usually like to buy cotton, and feel more comfortable to wear.
But don't choose cotton in warm underwear! Do not choose cotton in warm underwear! Do not choose cotton in warm underwear!
The important thing to say three times!
Cotton fabric is called outdoor killer, because the cotton is very hygroscopic, but the wetting is poor, that is, sweat but not sweat! Pure cotton fabrics are usually comfortable when they are dry, but they will have a kind of wet and cold after being wet, because the heat conductivity of sweat is very strong, and it will become very cool. What is the use of more?
Therefore
In order to prevent sweating from taking away calories, keep the skin dry and more comfortable
Essence But because it is wearing the innermost layer, it must be more comfortable.
In general, choosing warm underwear mainly depends on these two points: hygroscopic sweats and comfort.
The decisive role is the fabric, and we mainly look at this when buying. Let's take a look at these two fabrics with good performance.
Speed ​​drying fabrics of hygroscopic sweating: After moisture absorption and fast dry treatment
Polyester
(Polyester),
nylon
Fabrics with better comfort:
Spanden
(Elasticity is very good, can fit the figure, comfortable to wear)
Two points should be both, then the fabric is required
Blended
Essence What I see more often in TB is
Polyester fiber and spandex blended
The content of spandex is generally between 5%and 10%. Just choose such armal underwear!
In addition, if you want to keep warm to the maximum extent, recommend a scientific "sandwich dressing method".
It is divided into three layers of dressing:
1. Sweeping layer: It is the heating underwear we wear in the innermost, and we need to absorb dampness and sweat, and keep the skin dry.
2. Inspection layer: In fact, the main role of the middle thermal insulation layer is to keep warm, generally wearing sweaters, down jackets.
3. Windproof layer: If you want to keep warm, you can also wear windproof clothing to prevent cold air from entering and taking away heat.
Summary:
The focus of keeping warm underwear is to absorb moisture and sweat
Choose a blended fabric for polyester fibers and spandex
Alright, the above is all my sharing, I hope it can be helpful to everyone ~