Beiqing.com (Reporter Wen Xiaowei) At 10 am on January 24th, in the Fangzhuang Community of Fengtai District, the leaders of the Beijing Traffic Management Bureau, the Capital Spiritual Civilization Office and other departments participated in the reflective logo paste activities, and personally pasted the non -motor vehicles of the citizens. A reflective sticker. This label and distributed labeling activity is also the first event that the Beijing Traffic Management Department carried out non -motor vehicle reflective logos in the city.
Police paste the reflective logo for the citizens, He Jianliang/Photo
"This reflective logo is posted behind a bicycle or electric car. You can also keep the car notice to you at night. This is to protect the safety of the riders." On the community square in the Fangqun Park Community, Fengtai District, the police towards the community to the community Residents patiently explained the posts and functions of non -motorized reflective logos. The reflective logo sticker in their hands is a 5cm*10cm non -dry glue sticker with the slogan of this event "No retrograde, no lights, no motor lanes." This logo is posted on the back of the bicycle or the rear seat, and the light can reflect the light when encountering the rear light, so that it can attract the attention of the rear vehicle.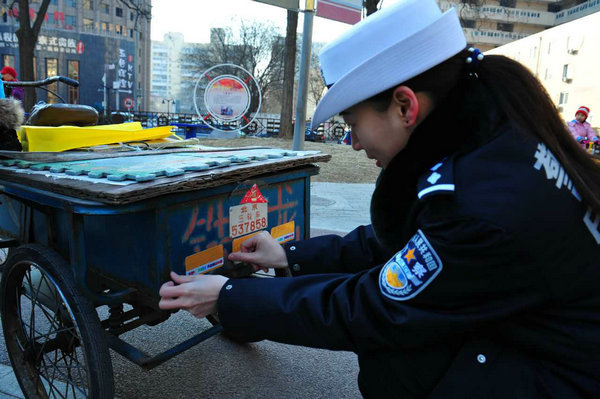 According to Zhao Xin, deputy director of the Safety Supervision Office of the Public Security and Transportation Administration of the Beijing Municipal Public Security Bureau, a total of 2,000 anti -light logos will be issued for free that morning, and 20,000 will be issued in Fengtai District. After the Spring Festival, the traffic management department will also launch a free adhesive reflective logo activity in the city's non -motorized vehicle concentrated areas, including: will enter elementary school, middle school and university campus, carry out safety education propaganda and adhere to reflective reflection in important business zones and office buildings. Identification. In addition, various detachments and brigades will go deep into the community and related units for further popularization and promotion. It is expected that in the first half of 2017, a full free paste will be achieved in the city, and 100,000 logos are issued.
The reflective logo on the bicycle He Jianliang/Photo
The traffic management department is a non -motorized vehicle label in the city. It is the city's "rectifying order of the intersection, rectification of the roadside parking order, rectification of traffic signs, and improving the traffic jams and traffic. Important part of the work.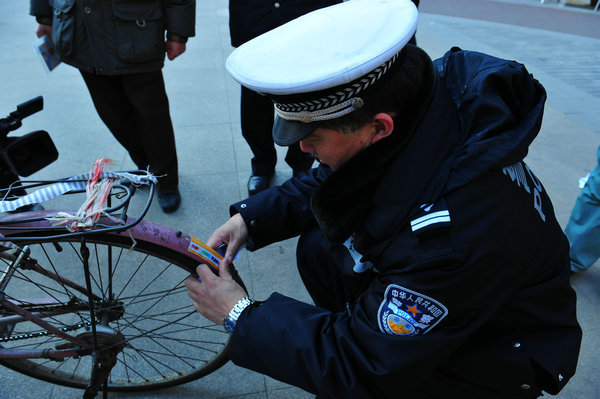 Police paste the reflective logo for the citizens, He Jianliang/Photo