On January 14, 2020, Microsoft officially stopped support for Windows 7 systems, no longer a free technical support, security update, and repair of Windows 7 systems. It should be noted that, like many companies, users can continue to use the Win7 system like many companies.
So, for the general user, nothing more than a choice, only need to consider which better, more fun. However, for many companies, there is no room for choosing. The reason is that many professional software is still not compatible with the Win10 system, plus Win10 will be updated frequently, and the driver problem is endless. This brings a lot of risks and challenges to the production, management and services of the company, and many companies have to abandon the upgrade Win10.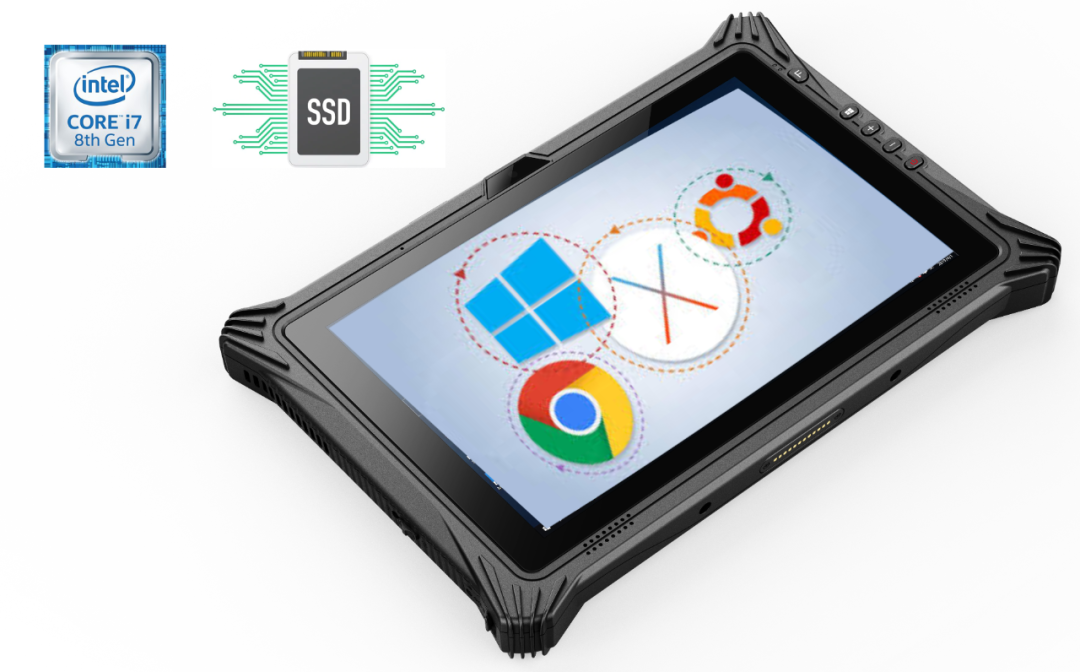 However, continuing to use Win7 will also face new problems. Nowadays, the more the software program is more, the requirements for real-time reactions in low delays are increasing, meaning that hardware equipment also needs to be upgraded. However, most hardware providers have turned to Win10 systems, and new products can support the smart terminals of WIN7 systems, and most of them are low-end marginalized products. Separate to the field of tablet, but also a phoenix rolling role, it can be described as "one machine hard to find".
As one of the leaders of the industry, Yi Hao information has always attached great importance to the needs and pain points of the company, and the engineer has been arranged to system debugging, driving advice, and launch a series of products that adapt to Win7 systems. This year, we are directly adapted to Win7 directly on high-performance new tablet EM-I10U, and we will solve all problems in a company.
The EM-I10U tablet is a king of performance in the three-step plate. This is a high-performance tablet based on Intel's eighth generation Core i5 processor. You can choose from multiple modules and accessories. It is a new high! Easily meet the needs of industrial, aviation, aerospace, car, police, education, exploration, fisheries, medical, finance, etc.
[1] Product features

Industrial grade three anti-quality, in accordance with US military standard MIL-STD-810G shock resistance
Intel Eighth Generation Core
i5 processor
Maximum frequency 3.40 GHz, upgradeable

i7
8G running memory + 128g
Removable SSD
1920 * 1280
HD screen
, Corning Gorilla Glass
Full fit
Protect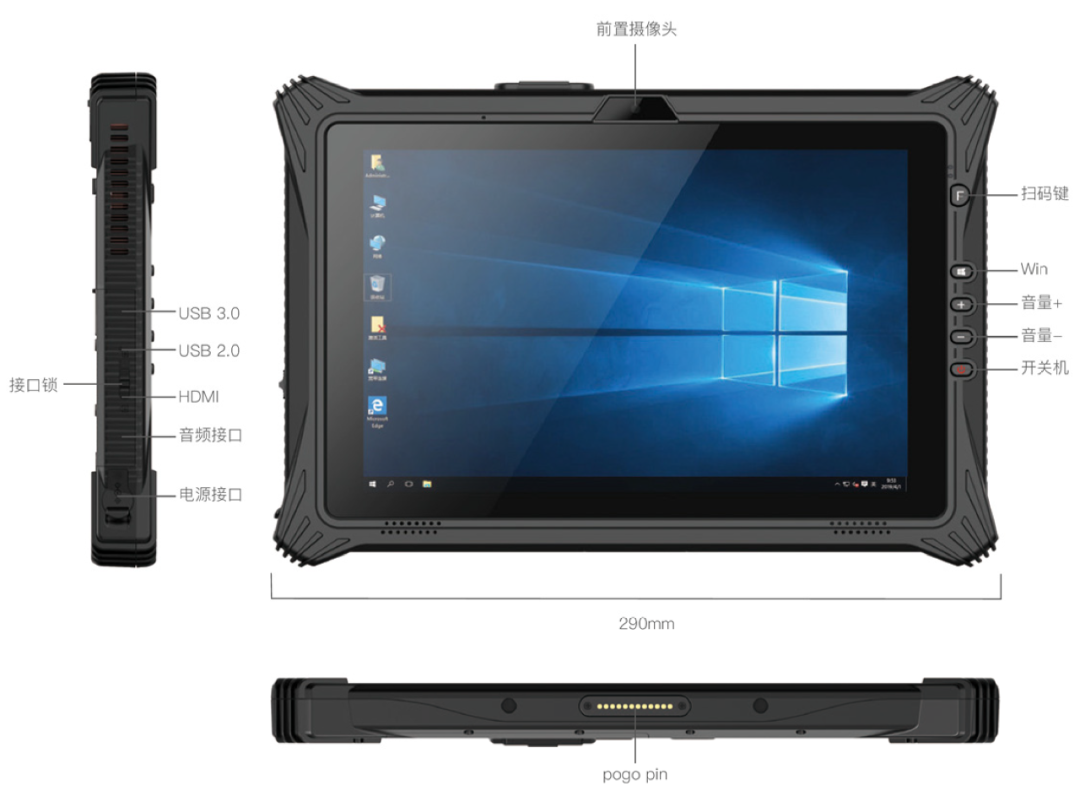 Multi-touch, perfect adaptation Windows 7 operating system
Double battery design, 8h long battery life,
Support hot plugging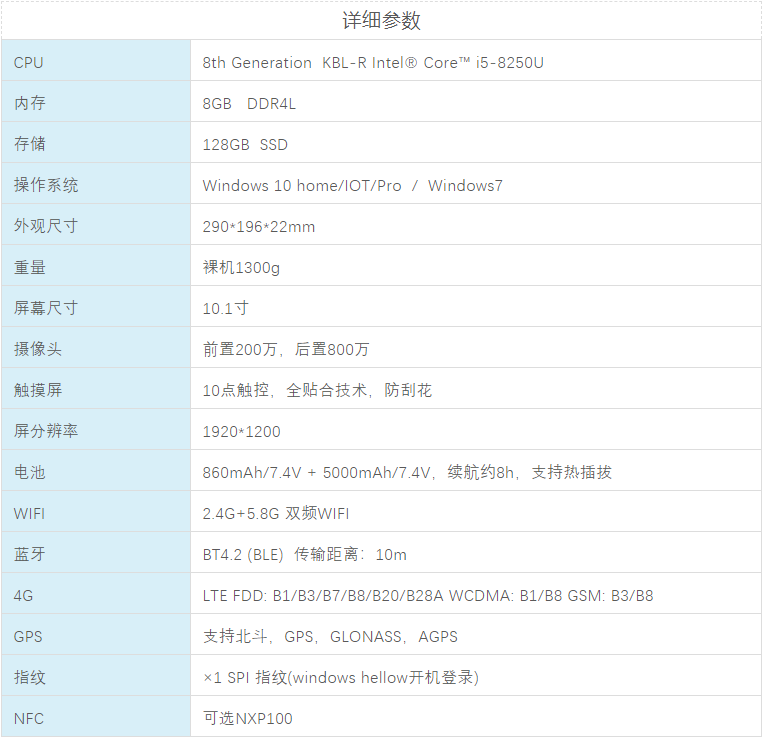 Powerful functional configuration, support fingerprint recognition,
Beidou navigation
, NFC, a two-dimensional scan, etc.
Rich interface design: USB3.0, HDMI, TYPE C, DB9 serial port, RJ45 network port, etc.
Product six view
[2] product parameters
[Three] interface
Rich interface configuration: USB3.0, Typec, HDMI, RJ45, DB9. More interfaces can also be expanded through POGO PIN. Make EM-I10U tablets with powerful compatibility and expansion.

Interface view
[Four] customizable
The custom selection of the EM-I10U tablet is very flexible, reserved an expansion port at the top, supports one-dimensional, two-dimensional, network port, serial port, USB2.0, five options. Products can also support the upgrade I7 processor, Win7 operating system, optional NFC, custom SSD size, modify BIOS / OS, custom buttons, etc …
EM-I10U's hardware and hardware customization
[Five] accessories
With different accessories, the tablet can be used in various scenes: If the interface is charged, the interface is expanded; uses the onboard bracket to use the vehicle bracket; with a complex operation of the straps, straps, etc. …
EM-I10U part of the fitting
[6] certification
After strict reliability testing, EM-I10U tablets have received a very complete certification certificate.
EM-I10U certification
[7] application scenario
Shenzhen Yaoxao Information Co., Ltd. is a subsidiary of Yao Dao Group. Founded in 2008, there are more than 200 teams, which is a high-tech company that develops three anti-hand-held end & tablets & notebooks. It is also a largest domestic Industry Customization and Terminal Product Program Company.
As the original manufacturer, Yilao information has 4000m2 R & D venues and manufacturing plants. In 8 years, we have adhered to the quality of military grade quality, launched more than 50 three-proof products, widely used in industrial, aviation, aerospace, car, police Using, education, exploration, finance and other fields.
I am Xiaolang, Yifao information sales manager, participated in the development process of company products, and I will know the importance of organizational collaboration, the era of full marketing, I am mainly responsible for the three defense, tablet, Sales and customization of notebook products.
I hope that through personal multi-divertes and experiences, combining your needs, you can more professional and quickly help you find the matching products and solutions, and launch differentiated products as soon as possible.
Three anti-industrial products find me, let you rest assured that cooperation will win.